Tucked along the Garden Route in South Africa, Knysna is a town that seamlessly blends natural beauty with exquisite accommodations. Accommodations in Knysna are known for their stunning landscapes, lush forests, and pristine beaches, Knysna offers a diverse range of top-notch accommodation options to cater to every traveller's preferences. Let's look at the top 10 best accommodations in Knysna, from boutique hotels to charming guesthouses.
Mount Knysna Boutique Hotel 🛎


Mount Knysna Hotel is an accommodation in Knysna perched on Knysna's Eastern Head, offering stunning vistas of the Knysna Lagoon and the ocean. With five magnificent suites, including the family-friendly Presidential Suite, guests are treated to spectacular views of the Ocean, Lagoon, and the Knysna Heads. This Knysna hotel boasts a full-service restaurant, a well-curated wine cellar, a bar for relaxation, and even a movie theatre, all conveniently located on-site. It's a perfect blend of luxury and natural beauty, ensuring that guests can savour the most stunning sunsets Knysna has to offer while enjoying top-notch amenities and services.
Address: No. 5 Glen View Road, Coney Glen, The Heads, Knysna
Website: https://www.mountknysna.co.za/
Contact Number: 044 384 1247
Book Your Stay At Mount Knysna Hotel Today! 🪴
Premier Resort The Moorings 🏨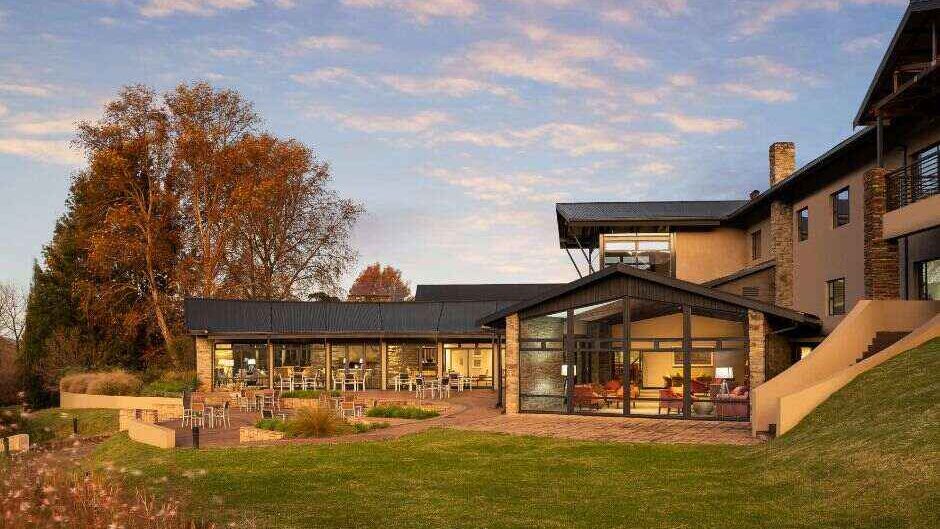 Premier Resort The Moorings in Knysna is an ideal starting point for exploring the Garden Route. Tucked on the banks of the serene Knysna lagoon amid enchanting woodland gardens, it offers private lagoon access, boat launch facilities, and docking for guests. Set against the Knysna Heads backdrop, it boasts stunning indigenous forest views and is conveniently close to the town centre.
Accommodation options include deluxe suites, one and two-bedroom suites, and waterfront villas, all with private balconies or patios. If you're looking for self-catering accommodation in Knysna. The resort offers self-catering facilities, two on-site restaurants, including Salmon Restaurant and Tuscano Ristorante, and upcoming kosher options for group bookings. Moreover, guests can rejuvenate with Bliss Soul Therapy's organic skincare and body treatments, immersing themselves in relaxation surrounded by nature.
Address: George Rex Drive, Knysna, Western Cape
Website: https://www.premierhotels.co.za/hotels
Contact Number: 044 302 7000
Book A Stay At Premier Resort The Moorings ☀️
Villa Paradisa ☀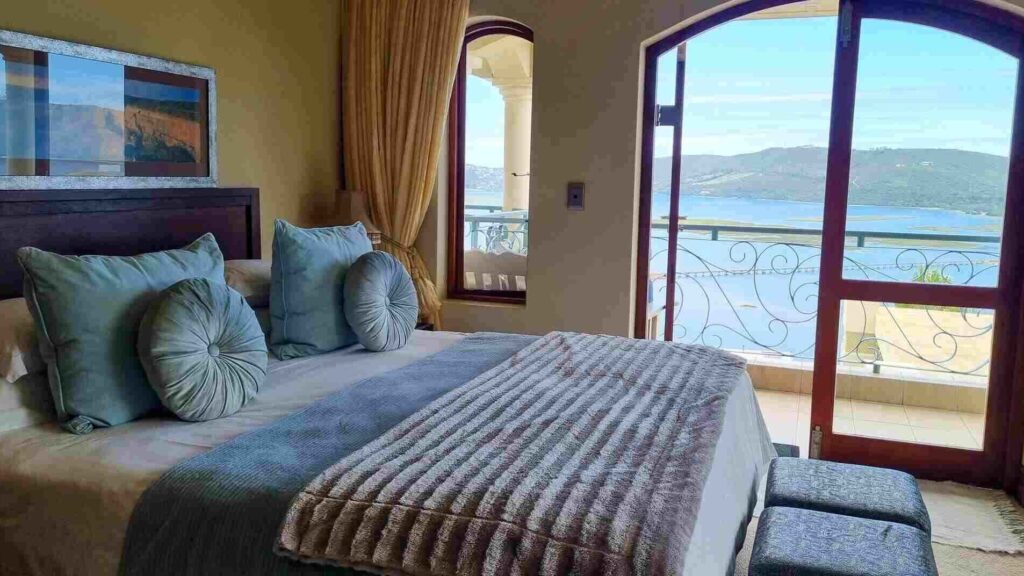 Villa Paradisa Guest House in Knysna offers exclusive, luxurious accommodations with stunning panoramic views of the iconic Knysna Heads and lagoon. It's the perfect haven for holidays, honeymoons, or romantic getaways, allowing guests to unwind by the rim flow pool or in the jacuzzi while marvelling at the ever-changing tides and moods of the lagoon. The guest house is conveniently located just minutes away from the Waterfront and the village centre, making it an excellent base for exploring Knysna and the beauty of the Garden Route. Villa Paradisa promises an unforgettable stay in this enchanting coastal town.
Address: 9 Watsonia Street, Paradise, Knysna
Website: https://villaparadisa.co.za/
Contact Number: 082 495 2221
Stay At Villa Paradisa By Booking Here! 🌅
Knysna River Club 🌊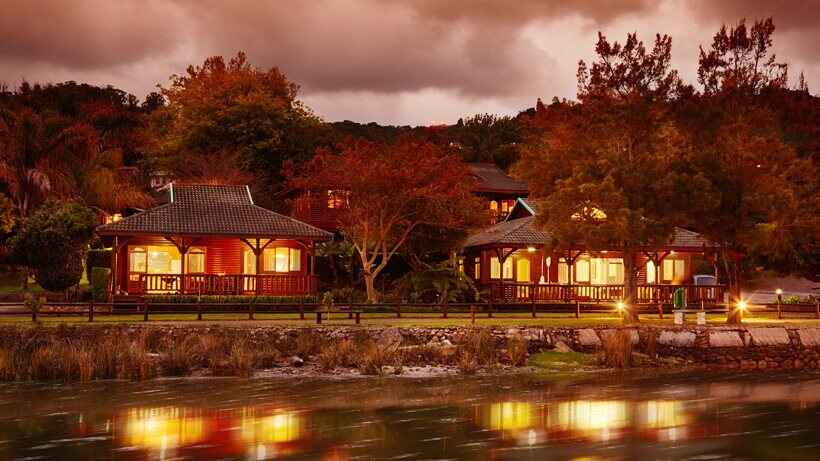 Knysna River Club, a distinguished 4-star hotel in Knysna, South Africa, is a tranquil retreat surrounded by lush trees and meticulously maintained gardens, ensuring privacy, security, and comfort for its guests. The resort serves as the perfect launchpad for exploring the charming lagoon-side town of Knysna. Their Lagoon Chalets provide awe-inspiring views, and the entire resort boasts serene surroundings.
Whether you opt for a Garden Chalet or a Lagoon Chalet, you'll find spacious, well-appointed accommodations. One and two-bedroom chalets, along with interleading options, are available, with the added convenience of accommodating two children under 10 on double sleeper couches. Guests can leisurely walk or cycle along the lagoon-side promenade to Thesen Islands, embark on a 5km jog to the iconic Knysna Heads or explore the vast lagoon's secluded beaches. For those seeking relaxation, there's the option to fish from the jetty right in front of the resort.
Begin your day with the melodious tunes of birdsong and savour morning coffee on your private deck. You can also take an invigorating swim in the lagoon or the resort's inviting pool before embarking on your day's adventures. Knysna River Club promises a serene and rejuvenating stay amidst nature's beauty.
Address: Sun Valley Drive Knysna, Garden Route
Website: https://www.firstgroup-sa.co.za/knysna-river-club
Contact Number: 044 382 6483
Stay At The Knysna River Club 🌊
Orange Inn Knysna ✨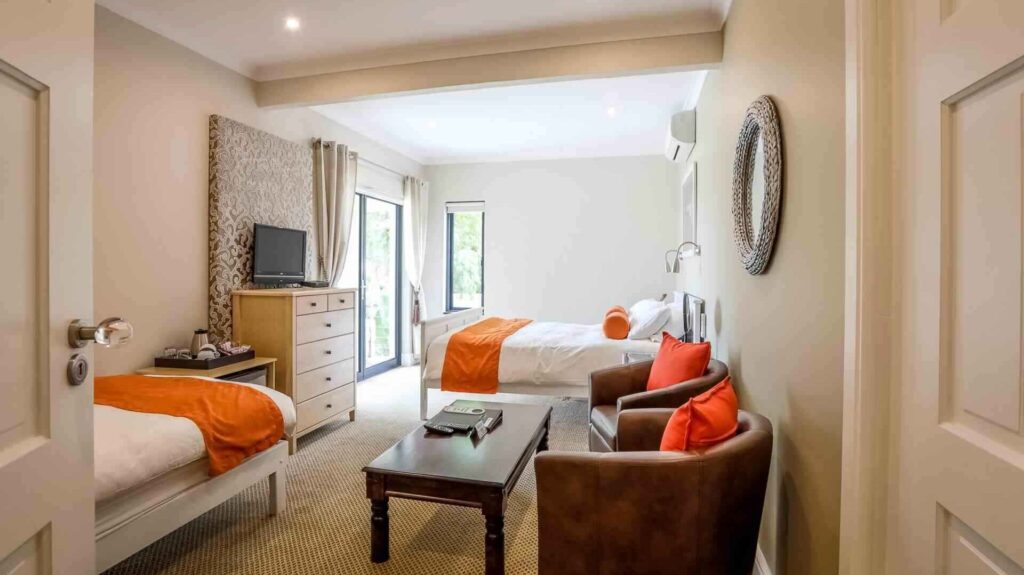 Orange Inn Knysna stands among the finest accommodations in the idyllic town of Knysna, recently refurbished to offer an ideal retreat for exploring the town and its stunning surroundings. This 4-star luxury guesthouse provides both bed & breakfast and self-catering options, catering to various preferences.
The offerings include five double en-suite rooms and three self-catering units, ensuring a comfortable stay for all. With two Orange Inn locations across South Africa, they have earned an impressive 95% approval rating for their great guest experiences. Guests can expect a host of amenities, making Orange Inn a top choice for luxury accommodation in Knysna.
Address: 25 old toll road, upper old place, Knysna
Website: https://www.orangeinnknysna.co.za/
Contact Number: 066 304 0023
Book Your Stay At Orange Inn Knysna 🍊
Under Milkwood Chalets 💝
Tucked amidst the lush Milkwood trees on the edge of the Knysna Lagoon, Under Milkwood Chalets are a quintessential choice for an idyllic stay in this beloved South African holiday destination. The Milkwood Collection, with properties like Milkwood Bay and Number Eleven, offers luxurious waterfront villas with private pools for those seeking five-star indulgence.
Alternatively, choose Paquita or one of the 16 cosy timber chalets for more budget-friendly options. Direct access to the beach, stunning views of Knysna Heads, and the convenience of various water sports make this location exceptional. With a temperate climate year-round and a wealth of outdoor activities, Knysna is an enticing destination for adventurers and nature lovers. The Milkwood Collection ensures a memorable stay with daily housekeeping, laundry service, pre-ordered groceries, and babysitting arrangements available for guests' convenience.
Address: 13 George Rex Drive, Knysna
Website: https://www.milkwood.co.za/
Contact Number: 044 384 0745
Stay Amongst Lush Milkwood Trees At Under Milkwood Resort 🌳
Crown on The Heads 👑
Crown on The Heads in Knysna is a boutique hotel offering a serene retreat with its six individually furnished rooms. The hotel boasts a fresh and contemporary design, emphasizing the beauty of the surrounding azure sea and sky, complemented by unique artworks within. Guests enjoy premium bedding, air conditioning, free WiFi, and in-room safes for their convenience. A complimentary full breakfast, laundry facilities, and an inviting bar are among the amenities offered. The hotel's restaurant showcases an array of organic, chef-selected ingredients crafted into epicurean pleasure, promising a pleasurable and memorable dining experience in the comfort of the lobby.
Address:4 Glen View Rd, The Heads, Knysna
Website: https://crownontheheads.com/
Contact Number: 082 780 2289
Relax And Book Your Stay At Crown On The Heads 👑
Lagoon Lodge ⭐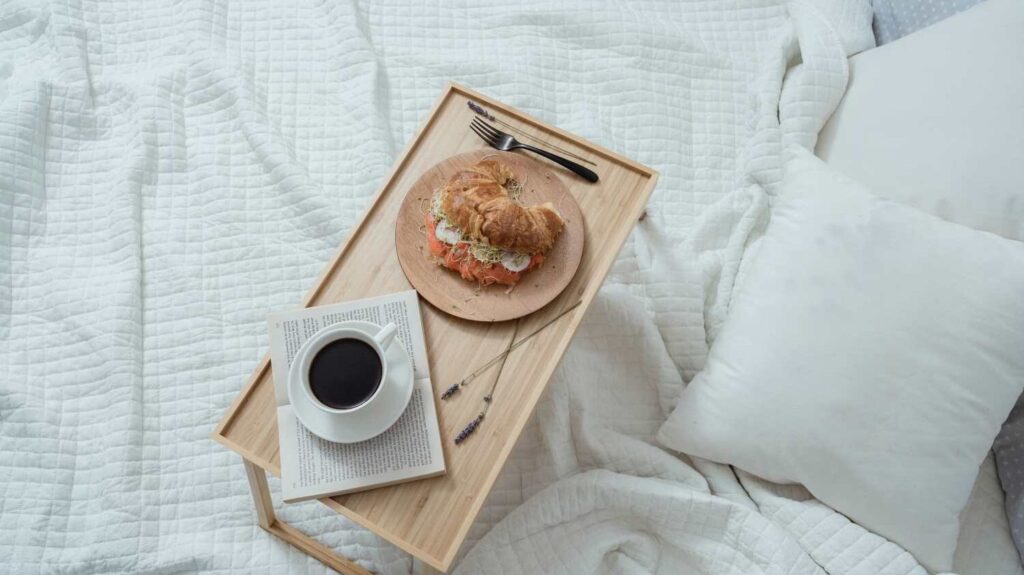 Lagoon Lodge, a charming bed and breakfast in Knysna, offers a romantic escape with its seven king-size bedrooms, each featuring en-suite bathrooms. Tucked near the Knysna Lagoon, it's perfect for couples seeking a romantic getaway with an idyllic walkway along the lagoon. The convenience of proximity to Knysna's waterfront and town centre makes it an ideal location. All rooms are equipped with DStv, and Wi-Fi, and boast stunning lagoon views. Guests can indulge in breakfast while enjoying the tranquil surroundings, making Lagoon Lodge a top choice for a romantic and relaxing retreat in Knysna.
Address: 140 Old Cape Road, Paradise, Knysna
Website: https://lagoon-lodge
Contact Number: 082 555 0820
Stay At Lagoon Lodge By Booking Here 🌅
Belvidere Manor 🥂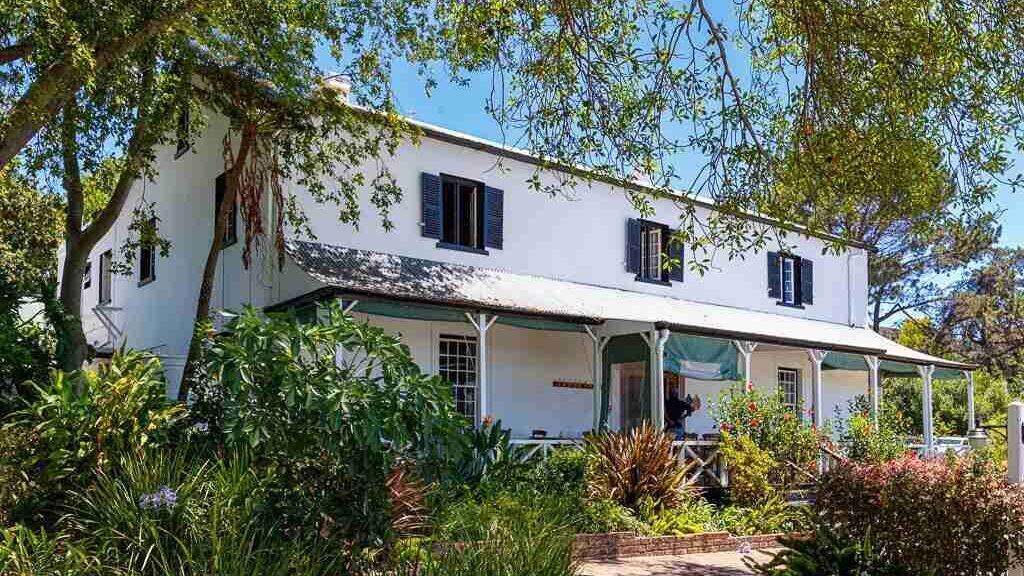 Belvidere Manor in Knysna offers a serene lagoon-side experience with its charming freestanding cottages set within two hectares of beautifully landscaped gardens. These cottages, available in single and double-storey layouts, provide idyllic views of either the lagoon or the lush gardens. Each cottage features a spacious veranda or stoep, a cosy living room, a fully equipped kitchen, and one or two double en-suite bedrooms. Some cottages even offer a third bedroom or a study, along with a dining room. Covered parking is provided, and daily servicing ensures a comfortable stay in these idyllic Knysna accommodations.
Address:169 Lower Duthie Drive, Belvidere Estate, Knysna
Website: https://belvidere.co.za/
Contact Number: 044 387 1055
Stay At The Belvidere Manor In Knysna 🌹
Amanzi Island Boutique Hotel 💘


This hotel in Knysna is tucked on the pristine shores of Knysna Lagoon, Amanzi Island Boutique Hotel boasts sweeping vistas of the Knysna Heads and Featherbed Nature Reserve. The well-appointed suites are adorned with coastal colours and earthy tones, offering stunning views of the lagoon or the tranquil private garden. Luxuriously spacious, each room is air-conditioned and equipped with top-tier amenities, ensuring a five-star experience for guests. Amanzi Island Lodge promises a tranquil and elegant escape in the heart of Knysna's natural beauty, making it an ideal choice for those seeking both relaxation and stunning scenery.
Address: 31 Cearn Dr, Leisure Isle, Knysna
Website: https://amanzilodge.co.za/
Contact Number: 044 384 1236
Book A Luxurious Stay At Amanzi Island Boutique Hotel 🛁
Knysna's accommodations cater to all types of travellers, from those seeking luxury and relaxation to adventure enthusiasts looking to explore the natural beauty of the Garden Route. No matter which option you choose, you'll find Knysna's warm hospitality and stunning scenery to be the perfect backdrop for an unforgettable South African getaway. So, pack your bags and get ready to experience the best of Knysna's accommodations, where memories are made and dreams come true.