Cape Town has many types of restaurants offering everything from Italian to Indian and French cuisine just to name a few but hey, if you're craving Greek food, you've hit the jackpot! Among Cape Town's offerings, Greek Food stands out for its bold flavours, fresh ingredients, and heartwarming dishes that reflect a heritage steeped in tradition. There are quite a few Greek restaurants in Cape Town but each offers a unique experience you won't want to miss so let's dive into the coolest Greek restaurants in Cape Town. Get ready to treat yourself to unforgettable meals and soak up the Greek vibes right here in this awesome city!
Yiayia's Table 🫒


YIAYIA's TABLE, a cosy spot founded by Yiayia Elli Parolis, is a tribute to her legacy of love, flavours, and family. Inspired by her journey from Greece in 1937, she settled in Cape Town and owned a tea room/supermarket, and a cherished butchery with her husband Jimmy Parolis. In Yiayia Elli's kitchen, love and warmth were the main ingredients. Her passion for cooking extended beyond her family, embracing friends, staff, and the wider community, proving that a meal shared is a bond strengthened.
Despite her age, Yiayia Elli's kitchen remained a lively person, where generations gathered around her yellow table for great meals and heart-to-heart talks. YIAYIA's TABLE embodies Yiayia's principles of passion, love, and Greek hospitality even after her unfortunate passing. This beloved Greek bakery isn't just about good coffee and delightful treats; it's a treasure trove of family recipes passed down with love. Each sip of coffee and every bite carries the heritage of Greece, inviting guests to taste Yiayia Elli's enduring legacy, one cherished recipe at a time.
Yiayia's Table Opening Hours: Monday to Friday 7:30 am to 4:30 pm and Saturday 8:30 am to 2 pm
Address: 41 Durban Rd, Mowbray, Cape Town, 7700
Website: https://www.yiayiastable.co.za/
Contact Number: 021 689 8837
Maria's Greek Café 🧆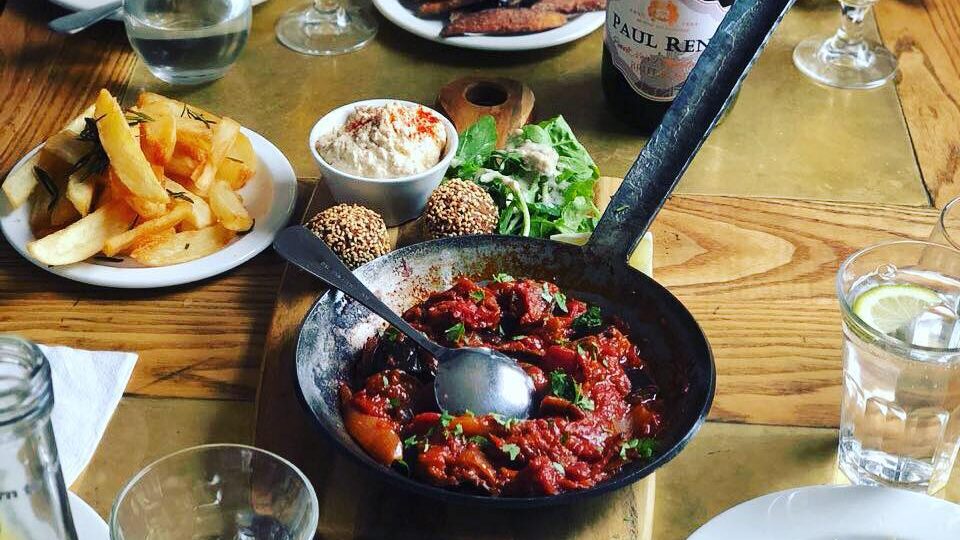 Maria's Greek Café, a hidden gem in Cape Town, offers a delightful fusion of Greek flavours with a modern twist. This eatery infuses traditional recipes with contemporary presentations, appealing to those seeking a fresh take on Greek cuisine. For decades, Maria's has been a treasured Greek spot in Cape Town, located on Dunkley Square since the 1950s this eatery draws crowds for delectable lunches, dinners, and an array of Greek delights. Regulars know booking early is a must as Maria's is always buzzing, and their popular dishes tend to vanish quickly from the menu.
Stepping into Maria's, guests are welcomed with a Greek touch the staff passionately share the story behind their food which is fresh, organic, and locally sourced whenever possible. As meals wind down, the allure of sweet, honey-filled pastries like cigar-shaped baklava paired with Greek coffee. Maria's ensures each visit is a delightful celebration of Greek flavours and warm hospitality, leaving guests with lasting memories of delectable feasts shared in this charming eatery.
Maria's Greek Café Opening Hours: Tuesday to Saturday 8:30 am to 10 pm, Sunday 10 am to 4 pm and Monday 11 am to 10 pm
Address: 31 Barnet St, Gardens, Cape Town, 8001
Contact Number: 021 461 3333
Souvla Stix ⚔️


Step into Souvla Stix, a cosy Mediterranean spot where the air is filled with the irresistible scent of souvla, a Greek/Cypriot grilling method This unique cooking style over hot coals on rotating skewers promises an unforgettable dining experience. Known for its Greek and Mediterranean cuisine, this spot has guests raving about its delicious souvla, chicken wings and fresh seafood. What sets Souvla Stix apart isn't just the food; it's the friendly and helpful staff, making your visit something to remember.
Patrons love that they can enjoy fantastic meals here without breaking the bank. The relaxed atmosphere adds to the charm, making it perfect for any occasion. Whether you're here for a casual dining experience, a quick bite alone, or a trendy date night, Souvla Stix has you covered. With features like a full bar, catering services, and takeaway options, it caters to various needs.
Souvla Stix Opening Hours: Monday to Thursday 5 pm to 10 pm and Saturday to Sunday 1 pm to 11 pm
Address: 15 Earl St, Hout Bay, Cape Town, 7806
Contact Number: 021 790 7849
Ouzeri 🍚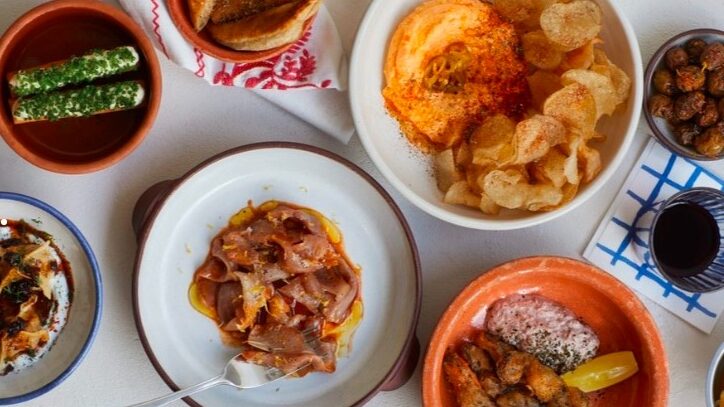 At Ouzeri the focus is on the delicious flavours of Greek and Cypriot cuisine. Founded by Nic Charalambous, Ouzeri brings a fresh perspective to traditional recipes, giving them a modern twist. Starting as pop-ups across Cape Town, including a residency at Leo's wine bar, Ouzeri aims to break free from typical Greek food stereotypes. Nic's goal is to shine a light on the wonderful tastes of Cypriot cuisine while offering something new and exciting in South Africa's Greek culinary scene.
Inspired by his travels, Nic blends family recipes with dishes from different regions of Cyprus and Greece, creating a menu that's both authentic and innovative. The seasonal menu, sourced from local producers, offers a mix of traditional flavours with a modern touch, perfectly complemented by a selection of wines. Ouzeri is all about bringing together cherished family recipes and regional specialities, ensuring guests enjoy a dining experience that goes beyond just food. From lunch and dinner options to a variety of refreshing drinks, Ouzeri invites everyone to savour the wonderful blend of Greek and Cypriot cuisines in a relaxed and inviting atmosphere.
Ouzeri Opening Hours: Lunch Wednesday to Saturday Lunch 12 pm to 2:30 pm, Dinner 6 pm to 9:30 pm and Tuesday 6 pm to 9:30 pm
Address: 58 Wale St, Cape Town City Centre, Cape Town, 8000
Website: https://www.ouzeri.co.za/
Contact Number: 061 533 9071
Mykonos Taverna 🧿


Aptly named after the beautiful Greek island, Mykonos Taverna exudes the charm and vibrancy of its namesake. Mykonos Taverna has been a Sea Point gem since the 1980s, lovingly run today by Dimitri Peroglou and his wife, Vicky, keeping alive the essence of traditional Greek cooking. At the heart of Mykonos Taverna lies a vibe centred on two things: flavour-packed food and genuine, attentive service. Dimitri and his team prioritize building strong bonds with customers, the local community, and suppliers, fostering a welcoming environment.
Their star dish, kleftiko lamb shank, holds true to its original recipe, embodying the restaurant's commitment to authenticity. Their culinary excellence hasn't gone unnoticed, earning top spots in Cape Town's culinary rankings, With locations in Sea Point and Cavendish, Mykonos Taverna offers takeout through UberEats and MrD, making their delicious cuisine accessible beyond their doors.
Mykonos Taverna Opening Hours: Monday to Sunday 12 pm to 10 pm
Address: 267 Main Rd, Sea Point, Cape Town, 8005
Website: https://www.mykonostaverna.co.za/
Contact Number: 021 439 2106
The Greek Club Restaurant 🥗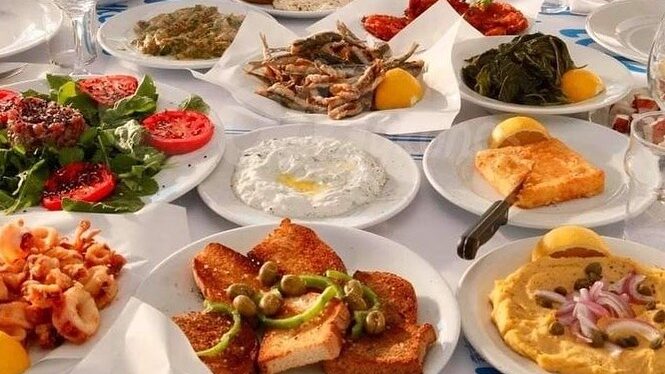 At The Greek Club Restaurant managed by Helen in Mouille Point, you're in for a real Greek treat. Helen, hailing from a Greek family, infuses her love for Greek cuisine into every dish, creating an atmosphere that feels just like home. It's not just a meal; it's a journey through delicious Greek flavours. From classics like spanakopita, taramosalata, and tzatziki to hearty moussaka and tender slow-roasted lamb, And for those with a sweet tooth, the baklava and bougatsa will surely satisfy your cravings.
But that's not all; they've got more mouthwatering treats like crispy fried halloumi, and delightful dips such as hummus and aubergine. Each bite is a burst of authentic Greek taste that will leave you wanting seconds. Helen's dedication to sharing genuine Greek cuisine makes this spot special. It's not just about the food; it's about experiencing Greek culture, warmth, and a passion for great food. So, if you're longing for an authentic Greek dining experience, this place should be at the top of your list!
The Greek Club Restaurant Opening Hours: Monday 9 am to 9:30 pm, Tuesday 1 pm to 8:30 pm, Wednesday to Friday 9 am to 9:30 pm, Saturday 9:30 am to 10 pm and Sunday 8:30 am to 5 pm
Address: 24 Bay Rd, Mouille Point, Cape Town, 8005
Contact Number: 021 801 4514
Mythos V&A Waterfront 🥙


At Mythos, an authentic Greek restaurant chain across South Africa, each Mythos outlet isn't just a dining spot; it's a vibrant blend of Greek charm and contemporary vibes, offering a memorable experience. The atmosphere at Mythos is welcoming to everyone, from young hipsters enjoying cocktails to professionals relishing hearty moussakas, and couples sharing intimate moments, It's a place where everyone feels at home.
The menu has many classic Greek delights like the secret family recipe kleftiko, tantalizing dolmades, flavorful souvlakia, and the irresistible baklava, along with newer, inventive dishes. They encourage sharing with their al fresco dining and traditional Greek meze platters, making dining here a social affair. Praised for its fantastic food and impeccable service, Mythos has received awards for being the 'Best Greek Restaurant' and the 'Best Neighbourhood Restaurant.' Founded by George Kutra in 2006, Mythos has been dedicated to providing exceptional Greek cuisine in a friendly environment for many years and will for many more to come.
Mythos V&A Waterfront Opening Hours: Sunday to Monday 11 am to 9 pm and Tuesday to Saturday 11 am to 10 pm
Address: Breakwater Blvd, Victoria & Alfred Waterfront, Cape Town, 8001
Website: https://mythos.co.za/
Contact Number: 087 147 4615
The Greek Fisherman 🎣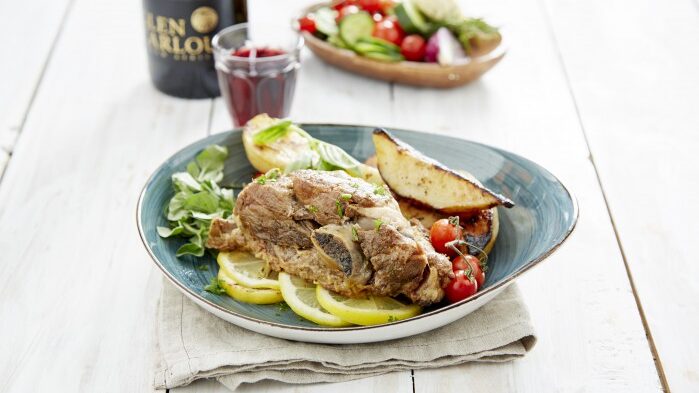 Located within a heritage site, The Greek Fisherman invites you into a charming setting where fresh seafood and genuine Greek cuisine meet amidst a spacious outdoor courtyard, perfect for enjoying an al fresco meal. The menu has an enticing array of Mediterranean delights like Meze, charcoal-grilled specialities, calamari, lamb, and souvlaki, each promising a true taste of Greece. Drawing inspiration from the Greek islands, the restaurant features modern decor and a cosy interior, complemented by crackling fireplaces in the winter months. To ensure a delightful experience, reservations are encouraged.
At The Greek Fisherman, the focus is on quality and consistency, with an emphasis on using fresh seafood and locally sourced ingredients, staying true to village-style authenticity. They prioritize sourcing Halaal-certified meat, showcasing their commitment to quality standards. Driven by a passion for superb seafood and grilled dishes, their menu, crafted by knowledgeable staff, infuses home-style recipes with creative twists, all made from top-quality produce. Rooted in Greek culture, The Greek Fisherman values the communal aspect of dining, reflecting the warmth of family gatherings around delectable food, offering an experience that feels like a home away from home.
The Greek Fisherman Opening Hours: Monday to Sunday 12 pm to 10 pm
Address: 78 Regent Rd, Sea Point, Cape Town, 8005
Website: https://greekfisherman.co.za/
Contact Number: 021 418 5411
Whether you're craving a hearty moussaka, succulent souvlaki, or fresh seafood prepared with a Mediterranean touch, the Greek restaurants in Cape Town promise an unforgettable dining experience. So, immerse yourself in the warmth of Greek hospitality, savour the robust flavours, and discover the magic of Greek cuisine right in the heart of Cape Town. Opa!