Cape Town is a city that blends natural beauty, culture, and modern amenities. One of its most sought-after neighbourhoods is Constantia which captures the essence of this beautiful city. Constantia offers a retreat while being conveniently close to Cape Town's attractions. Whether you're a nature enthusiast, a wine lover, or a culture seeker, Constantia is a great reason for you to visit Cape Town. Let's explore the top accommodations in Constantia that provide an exceptional blend of luxury, comfort, and convenience.
Nova Constantia Boutique 💎


In the heart of the historic Constantia Valley, Nova Constantia Boutique is more than just a boutique hotel – it's a private residence that redefines the travel experience. This gem surpasses the expectations of even the most experienced travellers, offering a blend of beauty and relaxation. Situated in the quiet and accessible Constantia Valley, Nova Constantia Boutique resides in an area full of history. Known as the birthplace of the Cape's first wine-producing farms, this leafy suburb of Cape Town holds charm and elegance. The hotel's proximity to these historic wine estates adds an extra layer of allure to its surroundings.
Nova Constantia Boutique stands as a testament to refined luxury. Its stylish suites, adorned with a luxurious interior design, provide an escape from the bustling world outside. The views of the Constantiaberg Mountains contribute to an atmosphere of tranquillity and relaxation. For those seeking an unforgettable journey, Nova Constantia Boutique goes beyond being a hotel; it's an experience that captures the essence of Constantia's rich heritage and natural beauty.
Address: 4 Welbeloond Road, Corner Muscat Lane South, Constantia, Cape Town
Website: https://www.novaconstantia.com/
Contact Number: 021 794 8746
High Hedges Guest House Constantia 🥂
Indulge in the warm Cape hospitality and unwind in comfortable surroundings at High Hedges Guest House. This renowned bed and breakfast, within the stunning Constantia Valley, offers relaxation and exploration. High Hedges is not just a guest house; it's a retreat that invites you to immerse yourself in the beauty of the Constantia Valley. Known for its tranquillity, this guest house provides a break from the bustle of everyday life.
As a renowned B&B, High Hedges offers a blend of relaxation and beauty. Located in the heart of Constantia, it's a gateway to not only the valley's treasures but also the surrounding areas. Begin your day with a scrumptious breakfast, fueling you for your day's adventures. Come and experience the comfort, tranquillity, and convenience that High Hedges promises to all who seek solace in the beauty of Constantia and its wonderfull surroundings.
Address: 22 Van Ryn Street Constantia, Cape Town
Website: https://highhedges.co.za/
Contact Number: 083 626 1738
Constantia Vista 🌟


Constantia Vista Guest House offers a breathtaking escape where forests, vineyards, mountains, and the sea converge in a mesmerizing panorama. This haven is perfect for those seeking time alone from the world. Constantia Vista unveils a collection of seven self-catering suites from View Cottages to Vista Apartments. Each suite is a secluded sanctuary with an enchanting forest backdrop, combined with expansive views over the Constantia Valley, setting the stage for an unforgettable retreat.
For travellers craving both solitude and accessibility, Constantia Vista offers the best of both worlds. Escape and revel in the natural beauty that surrounds you, and yet remain within easy reach of the city's offerings and transportation hubs. Constantia Vista Guest House isn't just accommodation; it's an invitation to immerse yourself in the splendour of the Constantia Valley. With its self-catering facilities and stunning vistas, it promises a getaway that rejuvenates the soul and rekindles the spirit.
Address:34 Price Drive, Constantia, Cape Town
Website: http://www.constantiavista.com/
Contact Number: 021 794 3674
Book Your Stay at Constantia Vista Here!
The Cellars-Hohenort Hotel 🛎


Referred to as "Cape Town's Vineyard," The Cellars-Hohenort Hotel stands as a sanctuary on the slopes of Table Mountain. This destination invites you to experience a world of beauty and tranquillity that is truly unparalleled. Boasting a privileged location, every room and suite at The Cellars-Hohenort offers sweeping panoramic views that capture the essence of nature's grandeur. Gaze upon the iconic Table Mountain or immerse yourself in the expanse of the meticulously landscaped gardens that surround this beautiful destination.
Under the guidance of its owner-management, The Cellars-Hohenort Hotel creates a likeness of a fairytale. You're transported to a world of luxury when you step through its doors. Discover the beauty of the mountainous landscapes and the manicured gardens that set the stage for an unforgettable stay. As you take in the panoramic views, both of the mountains and the gardens, you'll find yourself captivated by The Cellars-Hohenort Hotel.
Address: 93 Brommersvlei Rd, Constantia Heights, Cape Town
Website: https://www.thecellars-hohenorthotel.com/
Contact Number: 021 794 5535
Book Your Stay at Cellars-Hohenort Hotel Here!
Villa Fig Guest House 🌲


With a perfect blend of leisure and business Villa Fig Guest House provides a sanctuary for all. Whether you're on a holiday escape or a business trip, this destination offers a setting where mountain views greet you from both your bedroom and enclosed veranda. With its beautiful location, Villa Fig Guest House provides an escape, allowing you to unwind amidst the beauty of nature. Each room invites you to savour the mountain views that paint a breathtaking backdrop to your stay.
Villa Fig is more than just a place to rest; it's an elegant homestead adorned with Cape antiques, original oil paintings, and marble floors. This blend of style and comfort creates an ambience that's both inviting and refined. Located near the business hub of the Southern suburbs, it offers convenience for business travellers while maintaining the peaceful atmosphere that Constantia is known for.
Address: 6 Glendyrr Walk, Barbarossa, Cape Town
Website: https://www.atvillafig.com/
Contact Number: 082 887 8447
Navona Constantia Guest Cottage 🍃


Step into Navona Cottage, a gem located in Constantia, Cape Town's esteemed leafy suburb. At Navona Cottage, every moment is designed to envelop you in relaxation. This is not just a place to stay; it's a chance to unwind amongst the lush surroundings. Find yourself in the luxurious embrace of privacy, accompanied by the gentle melodies of birdlife that paint the soundtrack of your stay.
Navona Cottage captures the essence of a truly restful experience. Whether you're seeking a romantic getaway, a solo retreat, or quality time with loved ones, our cottage provides a space where comfort and serenity intertwine. Let Navona Cottage be your haven in Constantia, where you can find yourself in a world of peaceful indulgence. Your journey here promises to be one the best experiences that offers relaxation, privacy, and the beautiful nature that surrounds this exquisite destination.
Address: 10 Angus Ave, Deurdrif, Cape Town
Website: https://www.navona.co.za/
Contact Number: 021 794 0945
Willow Way Constantia 🏡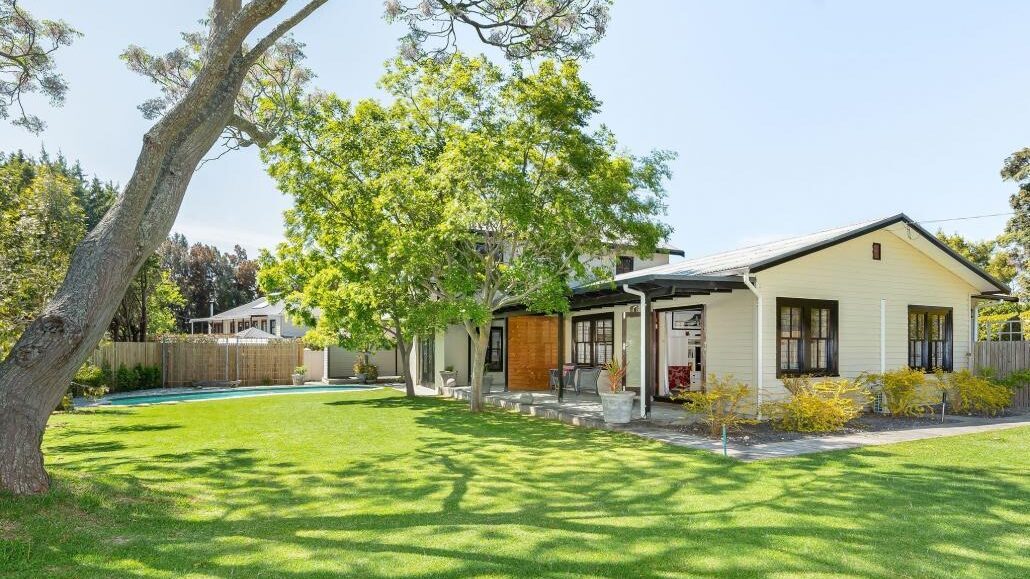 Welcome to Willow Way, a self-catering cottage nestled within a serene garden, offering captivating views of the majestic Constantiaberg Mountains. This destination promises a tasteful escape where nature's beauty and comfort seamlessly intertwine. Elegantly furnished, the cottage boasts a harmonious blend of a lounge, dining area, and a well-equipped kitchen. Sink into the comfort of the couch while enjoying your favourite shows on the flat-screen TV, complete with a full DSTV bouquet. French doors lead to a patio that opens up to an expansive garden, inviting you to savour the tranquillity of the surroundings.
Willow Way isn't just a place to stay; it's an experience that invites you to unwind in style. The comfortable interiors and the superior garden views create an ambience of relaxation and rejuvenation. Whether you're seeking a romantic getaway or a peaceful retreat, Willow Way Constantia provides a space where modern comforts and natural beauty converge, promising an unforgettable stay.
Address: 35 Willow Rd, Belle Constantia, Cape Town
Website: https://willow-way.co.za/
Contact Number: 083 357 4275
Riverlea 🌹


Welcome to Riverlea, where a world of supreme comfort and personalized care awaits you. Located in a serene neighbourhood that borders the lush Constantia greenbelt, this is the escape you've been seeking. Experience tranquillity and attentive hospitality in two beautifully adorned upstairs suites at Riverlea. Each suite, exquisitely decorated, welcomes you with its private entrance. Indulge in both accommodations' spaciousness, making them ideal for extended stays where you can truly settle in.
At Riverlea, the emphasis is on providing an atmosphere of relaxation and dedicated care. The quiet surroundings and the attention to detail ensure that your stay is a truly peaceful and memorable one. Whether you're a traveller seeking solace or planning an extended visit, Riverlea promises comfort and personalized service that makes it more than just accommodation it is also a retreat that feels like a home away from home.
Address: 25 Meadow Way, Constantia Meadows, Plumstead, Cape Town
Website: https://riverleabnb.co.za/index.php/en/
Contact Number: 072 259 3153
---
Constantia, Cape Town, presents a unique blend of luxury and natural beauty. These top accommodations showcase the neighbourhood's charm and elegance, offering a range of options for every traveller's preference. Whether you're seeking a romantic getaway, a family vacation, or a solo retreat, Constantia's accommodations promise an unforgettable experience and stand as some of the best places to visit in Cape Town.