Nestled in the picturesque town of George in the Western Cape of South Africa, Redberry Farm is a sprawling fruit farm and family-friendly attraction that offers visitors an array of activities and experiences. From strawberry picking to bumper boats, from zip-lining to hedge mazes, Redberry Farm has something for everyone. We will be taking a closer look at the history, attractions, and offerings of this unique and beloved farm.
History of Redberry Farm
Redberry Farm has been around for over two decades, and it all started with a simple dream. In 1996, Mark and Christine Amos, a couple from the UK, moved to South Africa with the idea of starting their own business. After exploring various options, they settled on the idea of starting a fruit farm. They scouted various locations, and ultimately decided on the picturesque town of George in the Western Cape, with its fertile soil and ideal climate for growing berries.
The Amos family started small, with just a few hectares of land and a handful of berry plants. However, they soon realized that they needed to diversify their offerings if they wanted to make the farm a viable business. They started adding attractions and experiences, and before long, Redberry Farm had become a popular destination for families and tourists.
Attractions and Activities



Today, Redberry Farm is a bustling hub of activity, with a wide range of attractions and activities to suit all ages and interests. Here are just a few of the highlights:
Strawberry Picking – One of the main draws of Redberry Farm is its strawberry picking. From October to December, visitors can don a basket and hat and head out into the fields to pick their own fresh strawberries. This is a popular activity for families with young children, who love the novelty of picking their own fruit straight from the plant.

Bumper Boats – If you're looking for a more active adventure, then the bumper boats are sure to deliver. These colourful boats are equipped with water guns, and visitors can cruise around the pond, trying to soak their fellow boaters. This is a great way to cool off on a hot summer day and is sure to provide plenty of laughs and thrills.

Mazes – Redberry Farm has not one, but two mazes for visitors to explore. The first is a traditional hedge maze, made up of towering green walls that provide a challenging puzzle for maze enthusiasts. The second is a wooden maze, which is more suitable for young children and provides a fun and interactive experience.

Zip-lining – For the more adventurous visitors, Redberry Farm offers a zip-line course that takes you soaring over the fields and orchards. This is a great way to get a bird's-eye view of the farm and the surrounding landscape and is sure to provide plenty of thrills and excitement.

Tea Garden – After all that activity, you'll probably be ready for a rest and some refreshments. Fortunately, Redberry Farm has its own tea garden, which serves up a range of delicious treats and drinks. From scones to sandwiches, from coffee to milkshakes, the tea garden has something for everyone.

Farm Stall – If you're looking to take home some of the farm's bounty, then be sure to stop by the farm stall. Here you'll find a wide range of fresh produce, including berries, as well as jams, preserves, and other homemade goodies.
Redberry Farm Events
Redberry Farm is also a popular venue for events, from birthday parties to corporate functions. The farm has a range of indoor and outdoor venues, as well as catering options, that can be tailored to suit the needs of any event. Whether you're looking to celebrate a special occasion or host a team-building day, Redberry Farm is a great choice.
Sustainability Efforts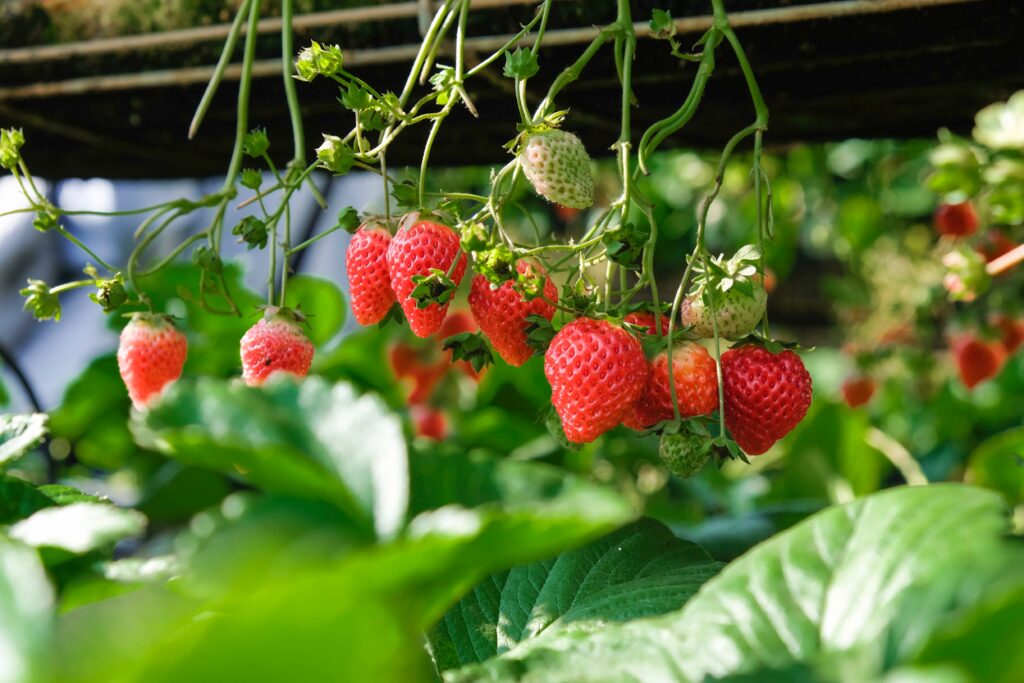 Redberry Farm is committed to sustainability and environmental conservation. The farm implements a number of practices to minimize its impact on the environment and promote sustainable agriculture. Some of these practices include:
Using organic fertilizers and pest control methods, which are less harmful to the environment and promote soil health.
Implementing a drip irrigation system, which uses water more efficiently and reduces waste.
Composting organic waste and using it to fertilize the soil, rather than sending it to a landfill.
Recycling waste materials, such as plastic and cardboard, reduces the amount of waste generated by the farm.
Community Outreach
Redberry Farm is also involved in various community outreach programs. The farm partners with local schools and organizations to provide educational tours and workshops, which teach children about farming, sustainability, and the environment. In addition, Redberry Farm hosts an annual charity run, which raises funds for a local charity.
Visiting Redberry Farm
If you're planning a visit to Redberry Farm, there are a few things you should know. The farm is open seven days a week, from 9 am to 4 pm. Admission to the farm is free, but there are fees for some of the activities and attractions. Strawberry picking, for example, costs R40 per person (which includes 250g of strawberries) or R25 for a small container, while the bumper boats cost R25 per ride.
It's a good idea to wear comfortable shoes and clothes, as you'll be doing a fair amount of walking and potentially getting wet on the bumper boats. And don't forget to bring a hat and sunscreen, as the South African sun can be intense.
---
Redberry Farm is a unique and beloved attraction in the Western Cape of South Africa. With its wide range of activities and attractions, commitment to sustainability and environmental conservation, and involvement in the local community, it's no wonder that the farm has become such a popular destination for families and tourists alike. Whether you're looking to pick your own strawberries, cruise around in a bumper boat, or soar over the orchards on a zip line, Redberry Farm has something for everyone.
Website: https://www.redberryfarm.co.za/
---
FAQ
Q – What are the operating hours of Redberry Farm?
A – Redberry Farm is typically open from 9 am onwards. However, it's recommended to check their website or contact them for the exact operating hours as they may be subject to change.

Q – Can I find accommodation at Redberry Farm?
A – Yes, Redberry Farm offers self-catering accommodation options. You can find a self-catering cottage on the farm that overlooks the Outeniqua Mountains.

Q – Are there restaurants or places to eat at Redberry Farm?
A – Yes, Redberry Farm has eateries where you can enjoy delicious food. They offer various food options to cater to different tastes and preferences.

Q – Can I buy strawberry-related products at Redberry Farm?
A – Yes, Redberry Farm has a range of strawberry-related products available for purchase. These include items such as strawberry syrup, strawberry jam, and other farm merchandise.

Q – Is there parking available at Redberry Farm?
A – Yes, Redberry Farm provides parking facilities for visitors.