The Zeitz Museum of Contemporary African Art, also known as Zeitz MOCAA, is a groundbreaking institution located in Cape Town, South Africa. Opened in 2017, and became the largest museum of contemporary African art in the world, occupying 102,000 square feet of space in a repurposed grain silo complex. The museum's mission is to collect, preserve, research, and exhibit contemporary art from Africa and its diaspora, providing a platform for African artists to showcase their work on an international stage.
The museum's building itself is a marvel of architecture and design. It was repurposed by renowned British architect Thomas Heatherwick, who was inspired by the idea of turning the silos into a space that was both functional and visually stunning. The end result is a building that is both a homage to the original structure and a work of art in its own right. The design features a striking geometric pattern of circular and rectangular shapes, which allow light to filter through in a way that creates a constantly changing play of light and shadow.
Zeitz MOCAA's collection is expansive, with over 100 galleries featuring works by more than 80 artists from all over the African continent and the African diaspora. The museum's collection is primarily focused on contemporary art, but it also includes some historical pieces. The collection is divided into various categories, including sculpture, photography, painting, video art, installation art, and performance art. Some of the artists featured in the collection include Kudzanai Chiurai, Nandipha Mntambo, Zanele Muholi, El Loko, and Nicholas Hlobo, among many others.
The museum is dedicated to preserving and promoting the cultural heritage of Africa and its diaspora. It provides a space for artists to create and showcase their work and also offers educational programs to engage the community and help visitors understand the importance of contemporary African art. In addition to the galleries, the museum has a research centre, a rooftop sculpture garden, a bookshop, and a restaurant.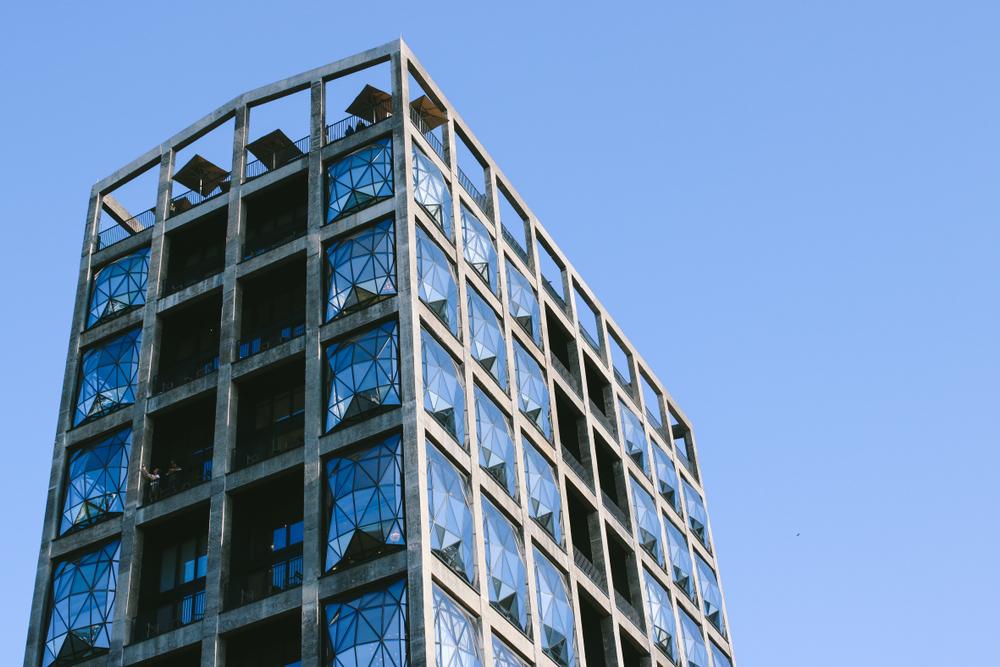 One of the standout features of Zeitz MOCAA is its commitment to social justice and activism. The museum regularly hosts exhibitions and events that explore issues of identity, race, and social justice, including the ongoing #FeesMustFall movement in South Africa, which advocates for accessible education for all. The museum also works to support emerging artists and promote diversity and inclusion in the art world.
Zeitz MOCAA has received widespread acclaim from critics and visitors alike. In 2018, it was named one of Time Magazine's 100 Greatest Places to Visit, and it has been praised for its innovative design, expansive collection, and dedication to promoting African art and culture. The museum has also received numerous awards, including the 2018 Leading Culture Destination Awards' Best New Museum, the 2018 London Design Museum's Beazley Design of the Year Award, and the 2018 Iconic Awards' Best of Best Award.
The museum's impact goes beyond Cape Town and South Africa, as it has become a beacon for contemporary African art around the world. Its exhibitions have travelled to other countries, including the United States and the United Kingdom, and its reputation as a leading institution for African art has grown steadily since its opening.
The museum's success is a testament to the importance of promoting and preserving African art and culture and the need for greater representation of African artists in the global art world. By providing a platform for artists to showcase their work and engaging the community in meaningful dialogue, Zeitz MOCAA is helping to bridge the gap between Africa and the rest of the world and inspire a new generation of artists and art enthusiasts.
The Zeitz Museum of Contemporary African Art is a groundbreaking institution that has redefined the role of museums in promoting and preserving African art and culture. Its dedication to social justice and activism, along with its commitment to supporting emerging artists, make it a truly unique and important institution in the global art world. The museum's collection is constantly growing and evolving, with new exhibitions and acquisitions being added on a regular basis.
The Art at Zeitz Museum Cape Town 🎨
At the Zeitz Museum of Contemporary Art Africa, art becomes a powerful medium through which the rich tapestry of African culture, history, and contemporary experiences are expressed and celebrated. The art showcased within the museum's walls represents a wide range of themes, perspectives, and artistic styles, each telling a unique story and contributing to a larger narrative of African identity and creativity.
Many artworks within Zeitz MOCAA reflect the complexities and legacies of Africa's history, particularly the impacts of colonization and post-colonialism. Artists engage with these historical narratives, offering critical insights and alternative perspectives. They explore the layers of cultural hybridity, the effects of displacement and migration, and the ongoing struggles for self-determination and decolonization.
The art at Zeitz MOCAA reflects the vibrant energy of contemporary Africa and its engagement with the global art scene. Artists draw inspiration from their local environments, fusing traditional practices with contemporary approaches to create new forms of expression. They embrace diverse mediums and techniques, blurring the boundaries between different art forms and pushing the limits of artistic innovation.


Zeitz Mocca Restuarant 🍴
Zeitz MOCAA offers not just one, but two distinct dining experiences that add to the overall allure of the museum. The Gantry Café and Ocular Lounge provide visitors with unique settings to relax, recharge, and savour delicious food and beverages.
First, let's explore the Gantry Café, a charming culinary haven nestled within the Zeitz MOCAA complex. Step into this vibrant space and you'll be greeted by a welcoming atmosphere filled with the aroma of freshly brewed coffee and mouthwatering baked goods. The Gantry Café offers a range of delectable treats, from artisanal sandwiches and salads to pastries and desserts that will satisfy any craving. Whether you're looking for a quick bite before diving into the museum or a leisurely coffee break, the Gantry Café provides a cosy retreat where you can refuel and savour the flavours of Cape Town.
For those seeking a more elevated experience, the Ocular Lounge awaits. This sophisticated lounge offers a refined setting where you can unwind and indulge in a selection of fine wines, craft cocktails, and expertly curated small plates. Relax in plush seating and take in the breathtaking views of Cape Town's skyline through the lounge's expansive windows. Immerse yourself in the ambience of the museum as you enjoy expertly crafted drinks and delectable bites, all while surrounded by captivating artworks that add an extra layer of intrigue to your visit.
Whether you choose the casual charm of the Gantry Café or the refined atmosphere of the Ocular Lounge, Zeitz MOCAA ensures that your dining experience is as captivating as the art on display. These culinary offerings provide an opportunity to pause, reflect, and appreciate the fusion of flavours and creativity that make Zeitz MOCAA a truly immersive destination for art enthusiasts and food lovers alike.
The Gantry Café Opening Hours:
10 am – 5:30 pm
Tuesday – Sunday

The Ocular Lounge Menu: https://zeitzmocaa.museum/wp-content/uploads/2022/08/OCULAR-MENU-PORTFOLIO-2022.pdf


Zeitz Mocaa Prices 🎟️
Zeitz Mocaa entrance fee:
Daily Admission – R230 per adult
Children Under the Age of 18 – Free (please provide ID)
Zeitz Mocaa free entry specials:
On your birthday gain free access (please present your ID)
Free entry every Wednesday from 10 am to 1 pm for all African citizens (please present your ID)
---
The Zeitz Museum of Contemporary Art Africa in Cape Town is a captivating destination that invites visitors to explore the soul-stirring creativity of contemporary African art. From its awe-inspiring architecture to its thought-provoking exhibitions, the museum embodies the essence of African artistic expression. Immerse yourself in the vibrant world of Zeitz MOCAA, where cultures collide, boundaries dissolve, and creativity reigns supreme. Plan your visit to this artistic haven and discover the power of art to inspire, challenge, and connect.
Website: https://zeitzmocaa.museum/
Address: V&A Waterfront Silo District, S Arm Rd, Waterfront, Cape Town, 8001, South Africa
Phone: +27 87 350 4777
Facebook: https://www.facebook.com/ZeitzMOCAA/
Instagram: https://www.instagram.com/zeitzmocaa/
---
FAQ
Q – What is the significance of the architecture at Zeitz MOCAA?
A – The architecture at Zeitz MOCAA, designed by Thomas Heatherwick, creatively repurposes the historic Grain Silo complex, symbolizing the transformation of Cape Town's industrial heritage into a contemporary art space that celebrates Africa's artistic spirit.

Q – How often does Zeitz MOCAA change its art exhibitions?
A – Zeitz MOCAA features a dynamic exhibition program with rotating showcases, ensuring that visitors can experience new and diverse artworks regularly, typically changing exhibitions every few months to offer fresh perspectives.

Q – Are there any events or programs for aspiring artists at Zeitz MOCAA?
A – Zeitz MOCAA actively supports emerging artists through various initiatives, providing them with a platform to showcase their work, participate in artist residencies, and engage with the creative community through mentorship programs.

Q – Can visitors purchase artwork from Zeitz MOCAA?
A – While Zeitz MOCAA does not sell artwork directly, visitors can explore the museum shop, which offers a curated selection of art books, prints, and unique souvenirs that allow them to take a piece of African artistry home with them.