Yzerfontein is a charming seaside town that has become a hidden gem for tourists seeking a seaside escape, natural beauty, and great food. While Yzerfontein is renowned for its beaches, stunning landscapes, and outdoor activities, it's the local dining scene that adds a touch of magic to your visit. In this top 5 list, we'll take you through some of the best restaurants in Yzerfontein, offering a diverse range of cuisines and dining experiences.
🚘 Need A Car To Get To Yzerfontein? 🚗
Skafti Restaurant Yzerfontein ⚓


Imagine dining with the salty sea breeze in the air, the sound of waves crashing in the distance, and a panoramic view of the Atlantic Ocean stretching as far as the eye can see. This is the experience that Skafti Restaurant in Yzerfontein offers its patrons. Located at the edge of a Yzerfontein beach, Skafti is a true testament to the beauty and bounty of the West Coast.
Skafti specializes in serving fresh seafood caught locally, making every bite a celebration of the sea's flavours. From grilled hake to succulent calamari, their menu is a seafood lover's dream come true. For those who prefer alternatives to seafood, they also serve delectable dishes such as steak and gourmet burgers. Be sure to try the mussel pot a regional delicacy that Skafti Restaurant prepares to perfection.
Skafti Opening Hours: Monday to Saturday 12 pm to 9:30 pm
Address: C/O Main and, Buitekant St, Yzerfontein, 7351
Contact Number: 079 559 9722
Gordo's Pizzeria 🍕
While the West Coast is famous for its seafood, Gordo's Pizzeria offers a different kind of vibe. This pizzeria is the place to be if you're craving the authentic taste of Italy in a coastal setting. Gordo's is great for pizza lovers. Their wood-fired pizzas are crafted with the finest ingredients, and the thin, crispy crust complements the rich toppings perfectly. The Gordo's menu offers an array of classic and creative pizzas, from the ever-popular Margherita to more adventurous combinations. The pizzeria's cosy and relaxed atmosphere is perfect for families, couples, and friends who want to kick back and relax after a long day at the beach or exploring the local attractions
Gordo's Pizzeria Opening Hours: Thursday to Saturday 11 am to 6 pm and Sunday 11 am to 4 pm
Address: House Of Blake's, R315, Yzerfontein, 7351
Contact Number: 022 451 2701
Bertie's Sushi & Grill 🔥


Located in the heart of Yzerfontein, Bertie's Sushi & Grill combines the best of two worlds: the exquisite art of Japanese sushi and the hearty goodness of grill cuisine. This fusion restaurant offers a diverse menu that caters to a variety of tastes. If you're a sushi lover, Bertie's will leave you spoiled for choice. Their sushi menu includes everything from classic salmon and avocado rolls to innovative creations that infuse unique flavours.
For those seeking a taste of the grill, Bertie's offers a selection of succulent steaks, juicy burgers and ribs. The team here has mastered the art of combining fresh ingredients and bold flavours, ensuring that every dish is a delicious feast. Bertie's Sushi & Grill boasts a warm and welcoming atmosphere with a touch of elegance. Whether you're looking for an intimate dinner for two or a vibrant gathering with friends, Bertie's caters to all so be sure to check them out.
Bertie's Sushi & Grill Opening Hours: Monday to Friday 11 am to 9 pm and Saturday to Sunday 9 am to 9 pm
Address: 51 Buitekant St, Yzerfontein, 7351
Contact Number: 071 534 7230
Grounded – Yzerfontein 🥙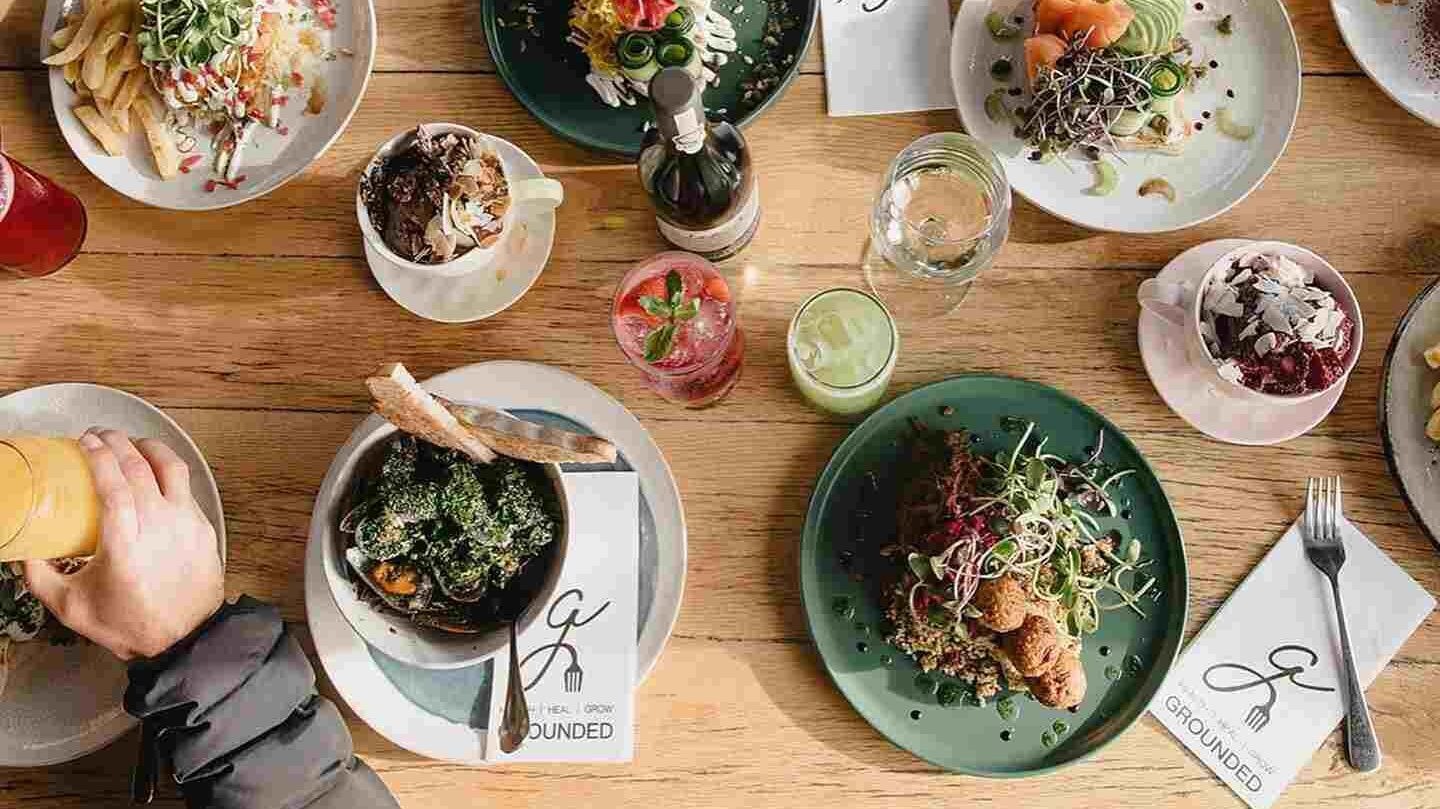 If you're in the mood for a delightful brunch or lunch, Grounded in Yzerfontein should be your top choice. This cafe has become a local favourite and a must-visit for tourists due to its warm ambience, artisanal coffee, and a delectable array of dishes. Grounded is all about comfort food with a twist. The menu features breakfast classics like eggs benedict and smoothie bowls but with a unique twist.
For lunch, you can choose from an assortment of wraps and veggie delights. The cafe also prides itself on its delightful range of baked goods, perfect for pairing with its exceptional coffee. The cafe is housed in a large building making it a great spot to enjoy a meal with all of your friends and family. You can dine indoors or outdoors, depending on your preference. The friendly staff and relaxing vibe make it a perfect stop for a great meal.
Grounded Opening Hours: Tuesday to Saturday 9 am to 5:30 pm and Sunday 9 am to 3 pm
Address: Shop 19, Main Road, Buitekant St, &, Yzerfontein, 7351
Contact Number: 022 451 2628
Lulas Food 🍔


Lulas Food, a Portuguese Mediterranean family restaurant, stands as a top choice when visiting Yzerfontein. This coastal eatery has carved a niche for itself with its diverse and delectable menu, reflecting the rich flavours of Portuguese and Mediterranean cuisines. Located in the heart of the beautiful West Coast region, near a quaint fishing village with a charming harbour and breathtaking beaches, Lulas Food offers a dining experience that's as inviting as the location itself.
What sets Lulas Food apart is its commitment to innovation. The restaurant regularly updates its menu, ensuring that it caters to the evolving preferences of its patrons. With dishes that span from traditional Portuguese specialities to Mediterranean options, it's a favourite among locals and visitors. Lulas Food is not just a restaurant; it's an embodiment of the Yzerfontein spirit, where coastal beauty and rich heritage converge to create an unforgettable experience. From the moment you step inside, you're welcomed by an awesome atmosphere and good service so next time you are in Yzerfontein be sure to try out Lulas Food.
Lulas Food Opening Hours: Monday to Friday 10:30 am to 9 pm and Saturday to Sunday 9:30 am to 9:30 pm
Address: 61 Beach Rd, Yzerfontein, 7351
Contact Number: 072 232 3885
Grab Some Lunch And Learn About South African History In Yzerfontein 📜
Yzerfontein, often overlooked in favour of more popular destinations, is a hidden coastal treasure. Whether you're strolling on the beach, or exploring the local restaurants, From seaside dining at Skafti Restaurant to the great food at Lulas Food, and the comfort food at Grounded, there's something to satisfy every palate in this coastal town, so next time your travelling along the west coast be sure to stop by Yzerfontein and try a few of the great restaurants in the area.