Cape Town, renowned for its stunning landscapes and vibrant culture, also offers an opportunity to immerse oneself in the diverse wildlife that South Africa has to offer. Just beyond the city lies Cape Point Ostrich Farm a treasure that provides visitors with a unique and captivating experience centred around these magnificent flightless birds. With its rich history, remarkable ostrich encounters, reptile section, a wide array of ostrich products and souvenirs, educational breeding and conservation learning programs, excellent facilities, and convenient accessibility, this farm is a must-visit destination for wildlife enthusiasts and curious travellers alike.
The Beginning of Cape Point Ostrich Farm 🪶


The roots of Cape Point Ostrich Farm can be traced back to the early 1860s when ostrich farming became a flourishing industry in South Africa. Originally established as a breeding farm, Cape Point Ostrich Farm quickly gained recognition for its commitment to conservation and sustainable practices. As the demand for ostrich feathers, meat, and leather grew worldwide, the farm played a significant role in meeting these demands while promoting responsible farming practices.
Over the years, the farm has evolved into more than just a commercial enterprise. It has become a sanctuary for ostrich species and a hub for educating visitors about these fascinating creatures. Today, the farm stands as a testament to the rich history of ostrich farming in South Africa while offering a unique and immersive experience that showcases the beauty and importance of these remarkable birds.
About the Ostriches of Cape Point Ostrich Farm 🧺


At Cape Point Ostrich Farm, visitors have the extraordinary opportunity to observe and interact with ostriches up close. Guided tours provide a fascinating insight into the different species of ostriches and their unique characteristics. These magnificent birds, known for their long necks, powerful legs, and distinctive feathers, create a mesmerizing spectacle that captures the imagination of onlookers.
Expert guides at Cape Point Ostrich Farm offer valuable information about ostrich behaviour, feeding habits, and their challenges in the wild. Visitors can witness ostriches in their natural habitat, observe their social dynamics and admire their graceful movements. The farm's commitment to conservation is evident in the care and attention given to these birds, and guests are encouraged to appreciate and respect their natural environment.
Interacting with ostriches is a highlight of the farm experience. Under the supervision of trained staff, visitors can get up close and personal with these magnificent creatures. Feeding sessions allow guests to offer food to the ostriches, creating an unforgettable connection and a deeper appreciation for their beauty and strength.
Get To Know More Penguins And Take A Tour Around Cape Point And Boulders Beach 🐧
The Reptile Section 🐊


The farm also houses a dedicated reptile section, offering visitors a chance to discover the fascinating world of reptiles. As you explore this section, you will encounter a diverse range of reptiles, including alligators, snakes, crocodiles, and more. This captivating exhibit allows guests to gain insights into the incredible adaptations and behaviours of these ancient creatures.
The reptile section at the farm is carefully designed to provide a safe and enriching environment for its inhabitants. Knowledgeable staff members are on hand to educate visitors about the various reptile species, their natural habitats, and the conservation efforts in place to protect these unique creatures. It's an opportunity to dispel common myths and misconceptions about reptiles while fostering a deeper appreciation for their vital role in the ecosystem.
Whether you find yourself face-to-face with a slithering snake or observing the powerful jaws of a crocodile, the reptile section at Cape Point Ostrich Farm promises an unforgettable encounter with these mesmerizing reptilian creatures. It serves as a reminder of the incredible diversity of life on our planet and the importance of preserving these species for future generations.
All about Ostrich Products and Souvenirs 👜


The farm takes pride in its range of ostrich products and souvenirs. Ostrich leather, renowned for its durability and elegance, is skilfully crafted into various items such as handbags, wallets, belts, and shoes. The farm's boutique offers visitors the opportunity to browse through a stunning collection of these high-quality products, each meticulously made from the finest ostrich hides. Visitors can also find an assortment of unique ostrich-themed souvenirs, including feather accessories and decorative items, to take home as a reminder of their unforgettable experience.
The boutique at Cape Point Ostrich Farm is a treasure trove for fashion enthusiasts and those seeking one-of-a-kind items. The exquisite craftsmanship and attention to detail make each product a true work of art. Whether you're looking for a statement piece or a stylish accessory, the ostrich leather products at the farm are sure to leave a lasting impression.
Learning about Ostrich Breeding and Conservation 🥚


The farm is not only dedicated to providing a memorable experience for visitors but also to the breeding and conservation of ostriches. The farm plays an active role in preserving and protecting these magnificent birds, ensuring their long-term survival. Visitors have the opportunity to learn about the farm's breeding programs and the important conservation efforts that are undertaken.
Expert guides offer educational presentations on the breeding process, shedding light on the intricacies of ostrich reproduction and the challenges faced in maintaining healthy populations. Visitors can gain a deeper understanding of the conservation strategies employed by the farm and the importance of preserving ostrich habitats. The farm's commitment to sustainability and conservation serves as an inspiration for visitors to become advocates for wildlife preservation in their own lives.
Facilities and Amenities Offered 🌄


The farm provides excellent facilities and amenities to ensure a comfortable and enjoyable visit for guests. The farm features well-maintained pathways that allow for easy navigation and wheelchair accessibility. The guided tours are conducted by knowledgeable and friendly guides who are passionate about sharing their expertise on ostriches and wildlife conservation.
For those looking to take a break and indulge in refreshments, Cape Point Ostrich Farm offers a charming on-site restaurant. Visitors can savour delicious local cuisine, including ostrich meat dishes that showcase the farm's produce. The restaurant provides a relaxing atmosphere, allowing guests to unwind while taking in the scenic surroundings.
The farm has ample parking space available for visitors arriving by car or tour bus. Clean restroom facilities are conveniently located throughout the farm, ensuring comfort and convenience for guests during their visit. Cape Point Ostrich Farm strives to provide a seamless and enjoyable experience for visitors, making it a top choice for families, nature enthusiasts, and animal lovers.
About Location and Accessibility 📌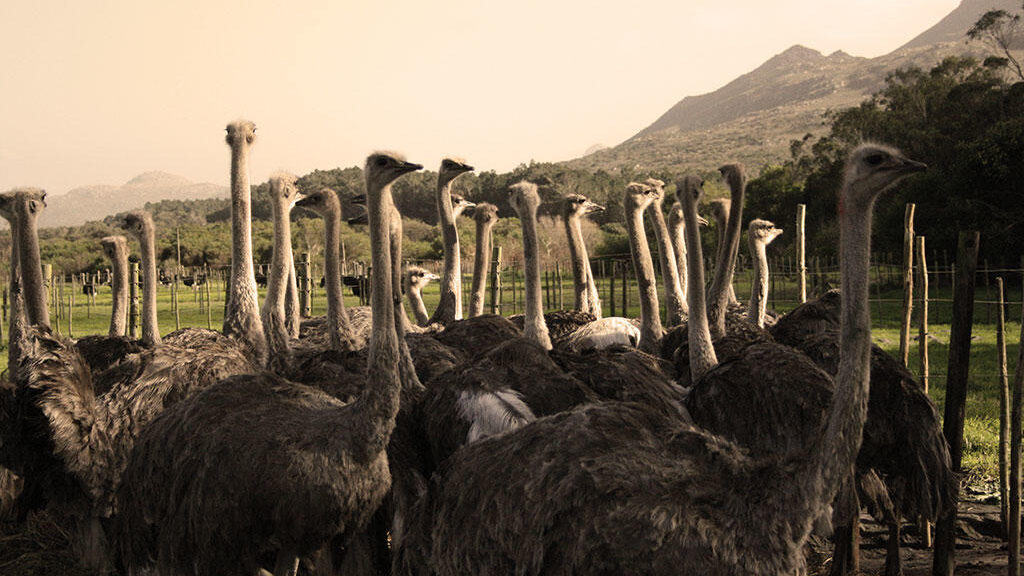 Cape Point Ostrich Farm is located at the tip of Cape Town. The farm's proximity to other popular attractions, such as Cape Point Nature Reserve and Boulders Beach, makes it convenient to combine multiple experiences into a single itinerary. Visitors can reach Cape Point Ostrich Farm by private transportation or take advantage of the numerous tour operators that offer guided visits to the farm. The scenic drive to the farm allows visitors to appreciate the breathtaking landscapes that Cape Town is famous for, further enhancing the overall experience.
🚘 Need A Car To Get To Cape Point? 🚗
Cape Point Ostrich Farm offers a captivating journey into the world of ostriches and reptiles, providing an unforgettable wildlife experience for visitors of all ages. From learning about the farm's rich history and encountering the magnificent ostriches up close to exploring the diverse reptile section and discovering a range of ostrich products and souvenirs, this gem in Cape Town has something to offer everyone. Whether you're a wildlife enthusiast, a conservation advocate, or simply seeking a unique and educational adventure, Cape Point Ostrich Farm is a destination that will leave you with lasting memories and a deep appreciation for these remarkable creatures.
Address: Plateau Rd, Cape Peninsula, Cape Town, 7985, South Africa
Phone: 021 780 9294
Website: Cape Point Ostrich Farm
FAQ
Q – Can I interact with the ostriches at Cape Point Ostrich Farm?
A – Yes, Cape Point Ostrich Farm offers guided tours that allow visitors to get up close and personal with the ostriches, including feeding sessions under the supervision of trained staff.

Q – Are there any souvenirs or products available for purchase at Cape Point Ostrich Farm?
A – Yes, Cape Point Ostrich Farm has a boutique where visitors can find a variety of ostrich products, including leather goods like handbags and wallets, as well as unique ostrich-themed souvenirs.

Q – Are there any age restrictions for visiting Cape Point Ostrich Farm?
A – No, Cape Point Ostrich Farm welcomes visitors of all ages. It is a family-friendly attraction where both children and adults can learn and have fun exploring the world of ostriches.

Q – Can I book a private tour or special event at Cape Point Ostrich Farm?
A – Yes, Cape Point Ostrich Farm offers the option of booking private tours or organizing special events such as birthdays, corporate functions, or educational field trips. Contact the farm in advance to arrange a personalized experience.