If you're a foodie or a coffee enthusiast looking for a unique dining experience in Cape Town, look no further than Truth Cafe. Tucked away in the trendy neighbourhood of Buitenkant Street, this gem has become a must-visit spot for locals and tourists alike. With its captivating atmosphere, delicious cuisine, and expertly brewed coffee, Truth Cafe is more than just a place to grab a meal, it's an experience that will awaken your senses and leave you wanting more.
Step into a World of Wonder


As you enter Truth Cafe, you'll be immediately captivated by its one-of-a-kind interior. The cafe's owner, David Donde, is known for his passion for vintage machinery, and he has transformed the space into a wonderland of antique curiosities and industrial chic decor. From the vintage coffee roasters and espresso machines to the retro bicycles hanging from the ceiling, every corner of Truth Cafe tells a story and creates a sense of wonder and intrigue.
The seating options at Truth Cafe are equally unique, with a variety of cosy nooks, communal tables, and even a mezzanine level that overlooks the bustling cafe below. Whether you're looking for a quiet spot to read or a lively space to meet friends, Truth Cafe has something for everyone.
Culinary Delights for Every Palate
One of the highlights of Truth Cafe is its diverse and delicious menu that caters to a range of dietary preferences. From carnivores to vegans, there's something for everyone to enjoy. The culinary team at Truth Cafe takes pride in using only the freshest and highest-quality ingredients, and their attention to detail is evident in every dish that comes out of the kitchen.
Coffee Connoisseur's Paradise
At Truth Cafe, coffee is not just a beverage – it's an art form. The cafe's commitment to brewing the perfect cup of coffee is evident in every sip you take. With its in-house roastery and team of skilled baristas, Truth Cafe is a paradise for coffee connoisseurs. The cafe's coffee menu is extensive, featuring a variety of single-origin beans from around the world, each with its unique flavour profile. Whether you prefer a smooth and velvety flat white or a bold and robust pour-over, you can trust that your coffee will be expertly brewed to perfection.
If you're looking to expand your coffee knowledge, Truth Cafe also offers barista courses and brewing classes. Led by their knowledgeable baristas, these workshops provide an immersive experience into the world of coffee, from understanding the different brewing methods to learning about the nuances of flavour profiles. It's a perfect opportunity to deepen your appreciation for coffee and hone your brewing skills.
A Unique Blend of Art and Coffee
One of the things that set Truth Cafe apart is its fusion of art and coffee. The cafe serves as a canvas for local artists to showcase their talent, with rotating exhibitions that feature a diverse range of artworks, from paintings to photography to sculptures. The walls of Truth Cafe are adorned with captivating pieces that add to the overall aesthetic and ambience of the space.
A Community Gathering Place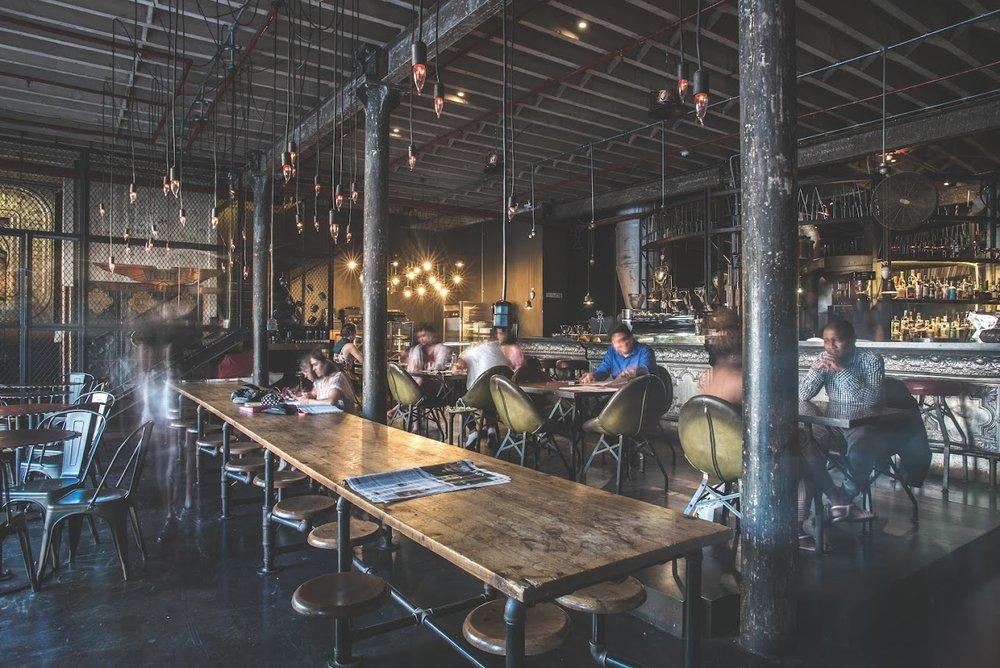 Beyond its culinary and coffee offerings, Truth Cafe has also become a hub for the community. The welcoming atmosphere and friendly staff make it a place where people gather, connect, and create memories. It's not uncommon to see groups of friends catching up over a cup of coffee, locals working on their laptops, or even strangers striking up conversations and forming new friendships.
Sustainability and Ethical Practices
Truth Cafe is also committed to sustainability and ethical practices. The cafe sources its coffee beans from reputable farmers who use environmentally-friendly and ethical farming methods. They also prioritize local and organic ingredients in their food menu, supporting local farmers and reducing their carbon footprint.
Truth Cafe is dedicated to reducing waste and promoting recycling and composting practices. They use biodegradable or compostable packaging for their takeaway orders and have implemented recycling and composting systems within the cafe. They also have a strong focus on energy conservation, utilizing energy-efficient appliances and lighting throughout the space.
Visiting Truth Cafe
If you're planning a visit to Cape Town, make sure to put Truth Cafe on your itinerary. Here are some essential details you need to know:
Location: Truth Cafe is located at 36 Buitenkant Street, Cape Town, South Africa.
Operating Hours: The cafe is open from Monday to Saturday, from 7:00 AM to 6:00 PM, and on Sundays from 8:00 AM to 4:00 PM.
Menu: Truth Cafe offers a diverse menu that caters to different dietary preferences, including breakfast and lunch options, as well as a wide selection of coffee and other beverages.
Events and Activities: Keep an eye on Truth Cafe's social media channels and website for updates on upcoming events, workshops, and exhibitions.
---
Truth Cafe in Cape Town is not just a place to grab a meal or a cup of coffee – it's an experience that stimulates your senses and leaves you with a lasting impression. From its captivating atmosphere and unique decor to its delicious cuisine and expertly brewed coffee, Truth Cafe is a hidden gem that has quickly become a beloved spot for locals and tourists alike. With its commitment to sustainability, support for local artisans, and fostering of community connections, Truth Cafe is more than just a cafe – it's a destination that will leave you with cherished memories and a desire to return for more. So, make sure to visit Truth Cafe on your next trip to Cape Town and discover the charm of this extraordinary culinary and artistic haven.
Website: https://www.truth.capetown/
Menu: https://www.truth.capetown/menu/
Phone: 021 201 7000
Not Wanting to Sit?
If you're not looking to sit at Truth Coffee be sure to take your coffee to go and explore everything the city has to offer. Take a five-minute walk to the flowerful Adderley Street Flower Market and take in the aromas of the South African flowers while enjoying a steaming cup of joe.